ELIZABETA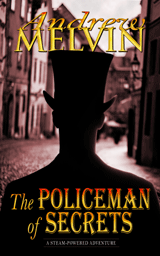 "A delicate, long-fingered hand with nails painted in deepest purple rose to pull back the hood, and the gesture uncovered a beautiful, well-bred woman in her early thirties, with piercing dark eyes and full lips. Her expression was one of amusement, but there was harshness in it, and those eyes seemed to search through the gloom like those of a fox after its prey."

"Alone in the ballroom, the scene of so many of her conquests, she admired herself in the great cheval glass that lined one whole wall. She knew herself to be beautiful, but was delighted anew when she saw that her face retained its vigor despite the exhausting array of tasks she had to complete so that the secret society could succeed. Did her peers not realize the range of her talents? So many of her achievements did not involve bloodshed or the violence which - she had to admit - she enjoyed so much. Why, she was as skilled with her tongue and fingers as she was with a blade or pistol..."
QUOTES
"You are... one hates to say doomed. But let us not be coy: your situation does not bode well."

"My daughter, on the other hand, is everything. Everything. If anything happened to her... then my vengeance would know no bounds, believe me. She is the most precious thing in all the world and I will do whatever it takes to make sure she has a long, happy life."
For more information on the other main characters, click on these links:
Count Balthazar | Solomon Snow | Lord Stone

BUY THE BOOK
PAPERBACK: Amazon US | UK | CA || Barnes & Noble


EPUB (iPad, Nook, Kobo, etc.): Apple | B&N | Smashwords | Kobo


PDF, RTF, plain text, etc.: Smashwords