KEY CHARACTERS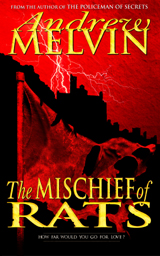 Here is a brief guide to some of the main characters of The Mischief of Rats:

SHARD HARKEN
A mercenary general, and legendary leader of the Final Company. Devoted to his children Kerrys and Bathor, he is bidding farewell to the battlefield to be the father they deserve at last. But his great fame puts everything in jeopardy, and Peak's former saviour will have to overcome formidable obstacles before he can sheath his weapons for good.
KERRYS HARKEN
Beautiful 19-year-old Kerrys is forced deep within Peak, far from the life she has always known. She must rely on her wits and courage if she and her younger brother are to see their home again.
KASPAAR BAN STORM
Having turned his back on his noble family and his inheritance, he has earned a reputation as a brave and well-paid warrior. Now all his skills are put to the test for the most important, and most dangerous, contract he has ever accepted. But can he overcome the temptation before him?
MAGNUS, THE REIKLORD
Peak's administrator, a man who sacrificed everything that was dear to him in the name of power. Armed with uncanny speed, he will stop at nothing to help his beloved achieve her goals.
VEIL
The last surviving mystic in the Fallen Quarter, who has spent her life questing for arcane knowledge. Now she is within sight of completing a deadly plan, which could transform the lives of millions - those who survive, at least...
MORE INFORMATION
The setting of the Mischief of Rats
BUY THE BOOK
PAPERBACK: Amazon US | UK | CA


EPUB (iPad, Nook, Kobo, etc.): B&N | Smashwords | Apple | Kobo


PDF, RTF, plain text, etc.: Smashwords